Social
Welcome IBBME graduate students! Don't forget Orientation Week is happening this week!! It is a great time to meet new friends, eat free food, and have fun! The BESA BBQ is always a huge hit with incoming students, along with the Christie Pits Bonfire and Trivia Night at Prenup Pub! Spread the word about IBBME O-Week! It's a ton of fun, and there is plenty of U of T swag to be won.
When: September 4th-6th, 2018
Where: Various (see event banner above)
Cost: FREE
Please indicate the events you are likely to attend in the Google Form here, as well as your dietary restrictions.
Keep up with Orientation Week updates (including any event changes) by joining our Facebook Page.
For all inquiries, please e-mail laura.bahlmann@mail.utoronto.ca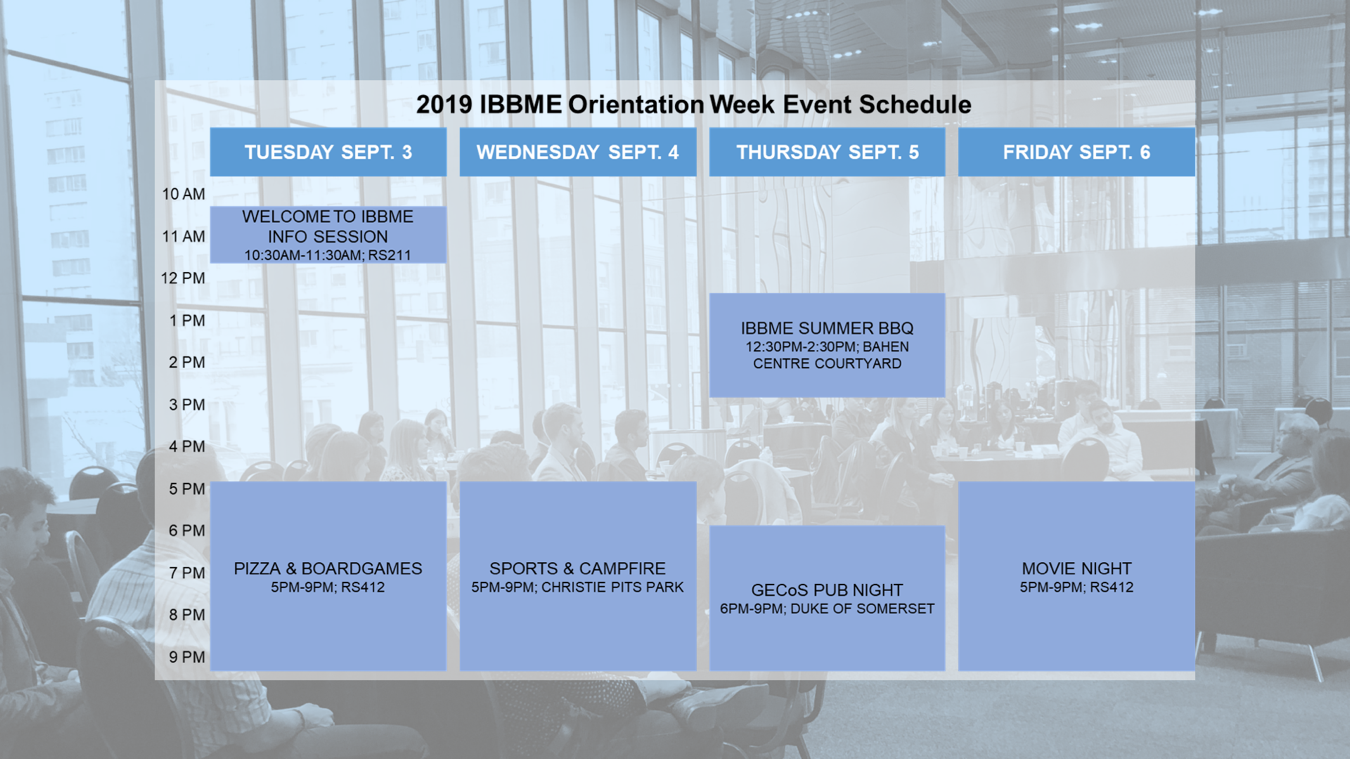 Welcome all new and returning IBBME graduate students. Your BESA executive team has prepared a list of fun social activities for Orientation Week. Come out and join your fellow colleagues for games, food and some great conversations. Have a look at the following schedule and please indicate your planned participation to any and all the events using the following form. http://bit.ly/besa19oweek
GECoS Pub Night
We're teaming up with GECoS this year for their:
Pub Night on Sept 5th from 6-9 PM.
Students need to register here for Pub Night event. https://www.eventbrite.ca/e/3rd-gecos-welcome-back-pub-night-2019-tickets-70014917503?discount=BIO
The Club for Undergraduate Biomedical Engineers is having a mixer event for IBBME students and undergrads interested in pursuing research and grad school. If you are interested in meeting some passionate and curious undergrads and sharing your experiences with them, while getting a free dinner then this is the event for you! Please contact Amir Reza Meysami at amir.meysamifard@mail.utoronto.caif interested.
When: Thursday, March 28th @ 6 PM
Where: TBD
Cost: FREE (and free food!)
Professional Development
Intellectual Property Seminar with Torys LLP and H2i
Learn about the foundations of intellectual property and how it can help turn an idea into a successful business. Gain insight and learn from the past experiences of our keynote speakers from Torys LLP and H2i. Lunch will be provided for those who register here. Mark your calendars and register now!When: Monday, September 17th @ 12-2:30 pm
Where: Debates Room, Hart House (7 Hart House Circle)
Cost: FREE Continue getting updates on the event by joining our event page here!
Graduate Engineering Networking Series: Sustainability Get an insider's perspective on building a career in the field of Sustainability. Network and make connections with alumni working in energy, water, consulting or public sectors for your future steps after graduate school.
When: March 28, 2019, 5:45-7:45 PM
Where: GB202
Cost: Free, but a deposit of $5
Registration link: Clickhere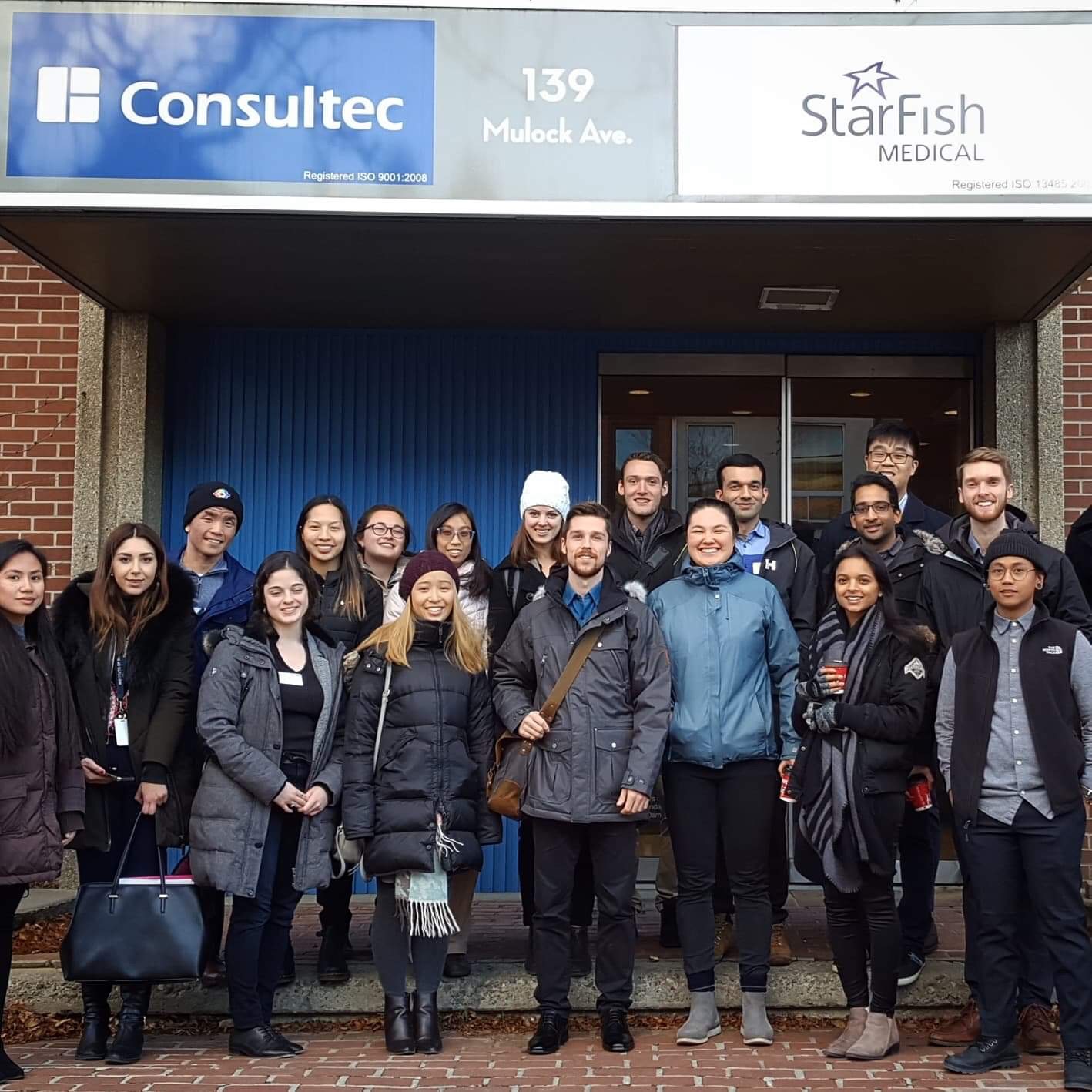 Industry Tour at Starfish Medical – Nov. 21st, 2018
StarFish Medical is Canada's largest medical device design, development and contract manufacturing company. They help medtech innovators throughout North America overcome challenging technology obstacles to create breakthrough products that improve health and save lives.
Don't miss out on this great opportunity to see first-hand how Starfish Medical operates. They will be hosting us for an industry tour which will consist of an overview of their company, tour of their Toronto facilities and a chance to network with their employees. Registration is required, please sign up as spots are limited.
Athletics
FacMed Sports Day is an event where several science-related graduate programs (like LMP, biochemistry and nutrition) come together and enjoy a Sports Day Event. We are at the initial stage of planning this event and would like your input on what sports and days work best for you.
Graduate Engineering Student-Faculty Relay Run by GECoS
Student and faculty get-together event that promotes physical activity, fun, relaxation and teamwork. It is a great opportunity to loosen your legs up after sitting around all day doing research, and a fantastic way to connect with other graduate students and faculty members across departments! Refreshments will be provided. Please register here ASAP as sign up is limited to 60 spots. When: Sunday, Sept 9th, 11:00 am- 1:00 pm
Where: UofT Athletic Centre Field House
Event Cost: FREE